Services: Web // Photography
Web
In the fall of 2016 we started a sister business, The Quail & The Dove, an off-shoot of our video work specifically for wedding films. After choosing the name (based on the birds we see the most of on our property), we began the design process with a logo that felt fun and contemporary which we felt would appeal to the type of bride that we would be targeting. We kept the colors on the site and the logo simple – black, white, and turquoise — so that they wouldn't compete with the colors in our films, which are the main focus of the site.

We built a simple but visually appealing home page, a pricing page that clearly shows our packages and pricing, a blog, and a portfolio that showcased our work with large video embeds, as well as the ability to add photos and additional films on the portfolio detail pages. The blog was an important part of the site for us, as it gives us a place to write articles that answer frequently asked questions that we get, and have a place to direct engaged couples for information. There isn't much competition for making wedding films in Joshua Tree — even though it's a very popular wedding destination — so the articles that focus on the local area will also help us appear in search results and make the business more visible.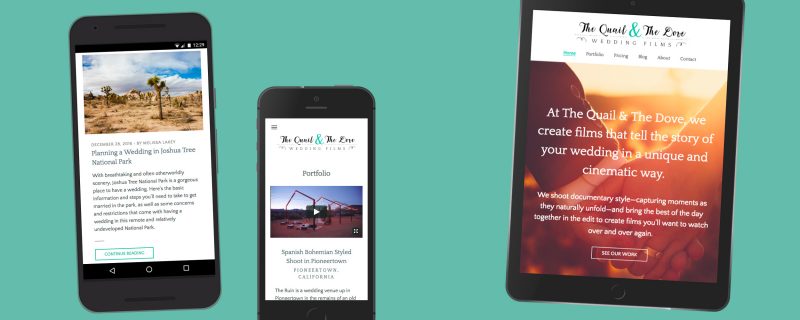 We chose WordPress for this project as we wanted to take advantage of its rich plugin ecosystem. For The Quail & The Dove, we needed a way to issue contracts and bill clients online. Unlike with Apple Canyon Designs, where our proposals and contracts are always custom and take some time and thought to craft, in the wedding film business, the contracts are largely boilerplate, so an automated online system made much more sense. We ended up going with WPEsign for online contract signing and WP Simple Pay Lite for Stripe for online payments. WPESign caught our eye as it is UETA/ESIGN Compliant with makes electronic signatures legally binding. It's easy to keep track of contracts, when they're viewed and when they're signed. The styling of the plugin leaves a little to be desired, as does the inability to modify the email templates without hacking the core files of the plugin, but overall it works well. The software required a one-time fee rather than a recurring monthly cost, which for us is preferable. Once a contract is signed, the client is taken to a custom page which has a simple Stripe payment form for the amount they owe.
Built on WordPress
Email sign-up and auto responder series through MailChimp
Logo Design
Custom Photography
HTTPS for security and performance
Photography
We didn't need much photography for the site since the main content is our films, but we needed a strong homepage image, as well as a photo for the about page. We always encourage businesses to include a photo of themselves on the about page so people can see who you are when they visit the website. Our aim for our about page photo was one that felt welcoming, and showed us as filmmakers. Relationships and personality are important for wedding vendors, and friendliness and a flexible attitude really help on the day when there can be a lot of stressful energy flying around. We've been complimented on our easy presence at the weddings we've shot so far, and wanted to show this in the photo.