Services: Web // Photography // Video
Web
Sylvia and Ruben Garza of Qué Mami Organics make organic, vegetarian tamales and traditional Mexican sauces and salsas in Palm Desert, California. They had a existing site which they had outgrown and were in desperate need of improved photos of their products. It was a perfect project for us, as we love working with local companies who use organic and sustainable ingredients, especially when we can photograph (and then eat) the products!
Sylvia and Ruben wanted customers to be able to pre-order their tamales, sauces and salsas online, and collect them from one of three local farmers markets where Qué Mami regularly sell. They also wanted to be able to grow into selling their products online, and to have a website that included all the ecommerce functionality they would need when they were ready.
Because Qué Mami Organics had a limited budget, we put an emphasis on custom photography and written copy, to showcase the brand. To keep design costs down, we used an existing responsive Shopify theme, and tweaked it to suit their needs, incorporating their existing logo, and changing the typefaces and colors.
Shopify was a good fit for Qué Mami because it had everything they'd need to start selling online when they were ready. Shopify has a large collection of apps, so it's easy to add functionality as needed. We used a third party app, Click & Collect, so their customers can order online and chose which farmers market and date they want to pick up their products on.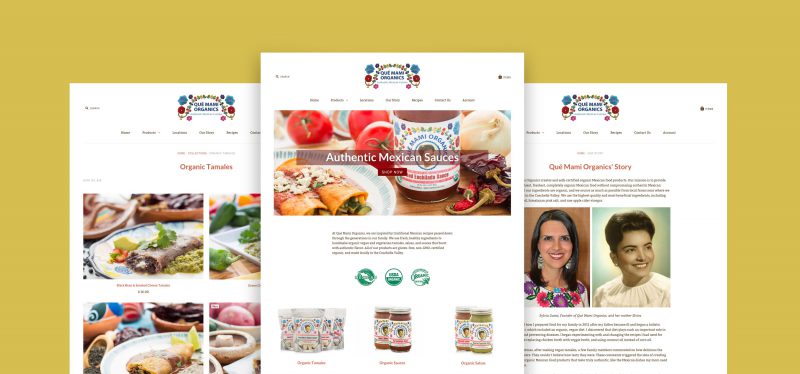 Photography
For each of their products we created an art-directed photo, with the food styled to look delicious and ready-to-eat, and surrounded by spices, sauces, and fresh ingredients. We worked with Qué Mami Organics to collect props, fabrics and ingredients to give the photos a traditional feel, as well as to emphasize the fresh, healthy, and handcrafted aspects of their foods.
We also photographed all their products individually on seamless for use on and offline.
Video Production
Sylvia, owner and chef of Qué Mami Organics, wanted to connect with her customers and give them recipes and tips for working with her tamales, sauces and salsas. She decided she wanted to start a YouTube channel of high-quality cooking videos. We worked with her to create videos that showcased her delicious food as well as giving people a sense of Sylvia's warm and friendly personality.