Services: Web // Photography
Web
Beth and Hugh of Mindful-Way had an old site that had served them well but had grown outdated. They needed a new site that was easy for them to update with new offerings and events, and that they could use for event registration for their mindfulness retreats and meditation classes.
We worked with them to get clear on which services they wanted listed on the website, and to figure out what text to include about those services. We made sure the new site was easy to use as one of the issues with their old site was inconsistency with event listings and navigation, making it very hard to see what events were taking place.
Our graphic designer partner, Stephen Brogdon, gave their existing logo a fresh look and worked with us to create a unique header and footer for the site. Hugh was keen to keep a visual sense of "flow" in the design which led to the wavy intersecting line motif to be used. We implemented this using SVG so we were able to re-use it throughout the site in different sections at no extra cost, performance-wise.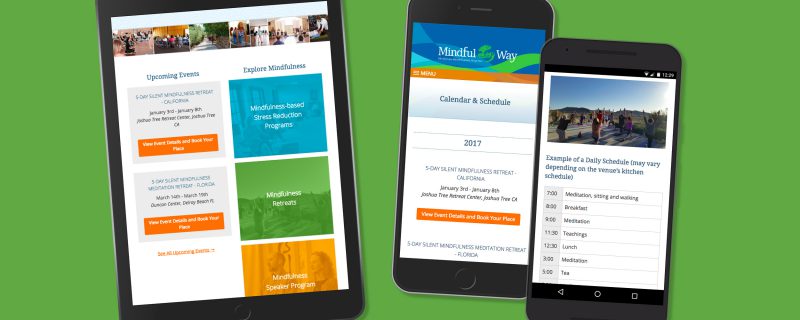 We built the site on WordPress, primarily due to the Events Manager plugin that was available. We knew we needed a full-featured Event Manager for Mindful-Way, who needed to be able to take bookings online with complex forms and offer offline and online payment options. Some events needed to be managed by Mindful-Way staff while others where being run off-site on third party sites. Using WordPress, Advanced Custom Fields and the Events Manager plugin, we were able to build a flexible template for events which would cover all the needs for event registration.
Built on WordPress
Added event registration through the Event Manager plugin
Migrated Beth's blog from WordPress.com so that is was included on the new site.
Custom photography
Logo redesign
Added HTTPS for security
The Apple Canyon Design team were great to work with. They listened to what we wanted and made sure they understood our business and the priorities we had for the new website in terms of accessibility, functionality and aesthetics. They took us through the entire redesign process with seemingly endless patience. They helped with migrating and rewriting content and worked to give us all the functionality we wanted — including graphic design, photography, integrating calendars, products, event registration, payment systems, audio streaming and video players, newsletter sign up, blog, the lot. They also provided plenty of hand holding as we learned to operate the new website on our own. And all without burying us in techno jargon or making us feel stupid. We have a new mobile friendly responsive website design that works for our business and gets a lot of compliments.
— Hugh O'Neil, Co-owner, Mindful-Way
Photography
Beth and Hugh had photos of their own from past retreats and speaking engagements which we used on their site. To supplement those, we visited them one afternoon during one of their week-long Mindfulness-Based Stress Reduction retreats and took some photographs of the group in seated meditation and walking meditation.